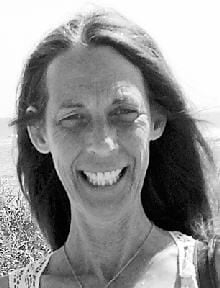 Photo: RTD OBITS... May 26, 2015
I don't even know where to start..... I don't "do" many funerals or memorial services....and when I do them....I don't do them well. I am devastated that today, I didn't do the service. But I wanted to...so badly.... unlike any other service...EVER. I have lost many people that are close to me in my young 53 years on this earth, yet I can count ...6 ..... that I have actually attended.
I had to work. I committed to this weekend 8 months ago...all 3 days ...and unless I was physically unable to do so...I needed to be at work for opening weekend on the 30th anniversary of Innsbrook After Hours, supporting the Special Olympics. They count on me and I count on them too.... I had to complete my Friday Assignment on Saturday A.M. before attending the Saturday Assignment at 4 o'clock.
Heather.
I met her in Art Class...
I awed over her block print she made ...... Stairway to Heaven....album cover and I did Fleetwood Mac "Rumors" ... we shared the love of music.... and Stevie Nicks...
we shared the love of creativity ...and learning too....Heather was very smart...she like myself...didn't have to study too hard to make the grade...so we had "extra" time to play during high school...and that we did!
I loved me some Heather Pollack. We were best friends for a little over a year in High School. Connected at the hip. Every day ....and I mean ...Every day ....we hung out without fail until I moved back to New Orleans. I started out as the "3rd wheel"
She was in love..... I was not...when we met. Scottie....he was our "driver" on most days after school, after homework.... to go ....."where-ever" every day. It was an adventure every single time.
On days we did not have school.... and sometimes when we were supposed to be at school...we found ourselves at Va. Beach or Buccaroe Beach or some River Front property to relic hunt ...or the apartment complex off Turner Road on Buford. Maybe even a graveyard...or down Jessup Road... or swimming at the Chesterfield Airport.... you see, I really have never had an issue with "trespassing" and neither did she!
Graduation Photo : 1979 Yearbook Clover Hill
Those were the early years. We never had a disagreement of any kind.... we never told each other "no" and we had soooooo very much fun. Once, a person we both knew, tried to break up our friendship and told a lie to both of us ..... it didn't work.... we fixed that mess right away , once we figured out what happened.
She taught me ...how to use a toaster oven to make "cheese toast" ....and how to make a bulletin board out of a door that doubled as a scrap book ...and mobiles out of seashells.
I taught her Macrame.
I think one can tell a lot about a person through their handwriting....hers was beautiful.
She had the longest nails of anyone I ever met.
She always had a sparkle in her eye.
Heather was the only person I ever met that "lightning" was attracted too.... like a magnet. It was something in her body. I was with her one time during a thunderstorm , she opened the car door and lightning struck the ground beside her. She cried uncontrollably that night...scared her, scared me and scared Scottie.... she thought she would die this way....
I went to court for Heather. She had a bad car accident and ended up on her couch for months in pain. I was there almost everyday with her. She refused to take the "settlement" and lost her trial in court. We were both devastated as she was unable to work many types of jobs at a very young age. It may have been a blessing in disguise that she didn't win...although she should have.... because she rehabbed into transcription... which I understand she did very well.
This was years later when I returned to Virginia and I met her 2nd husband...Mike for the very first time. He was so very funny and made her laugh ...a lot.
Heather had two very special son's that took after both her and Mike with a sparkle in the eye (Logan) and the ability to make anyone laugh (Brandon). Both of her son's have always been charming and both of them successful in their endeavors ...they both ... have a live life to the fullest attitude I have been told of late.
I went some years not seeing Heather..... after we both had our hands full with our respective lives, husbands, children, sports, jobs etc...... but I have always stayed "in the know" about what is going on with her...and she with me.
Heather is one of those people that ...no matter how long we went between visits we always could catch up as if no time had passed since the last time I saw her.
I heard from a friend of ours about a month ago...... that ran into her at work, that Heather missed me and was sick .... I heard her.... but I also knew that Heather had not been healthy for many years.... migraines & some other medical problems that started when she was a child... and she was working almost full time hours and taking care of her Mom every spare moment she had...I was to learn later that she was also taking care of several cats... a couple of them sick with leukemia.... She was a caretaker , a "selfless caretaker" as mentioned in her obituary , posted on line this week.
She left us..... but she was pain free. I messaged her son...the day after ..unknowing.... stating that it had been way too long since I had seen Heather and was confirming that her address was the same. He was sorry to tell me on Facebook that "yesterday" ...1 damn day..... she had passed away with complications of cancer. 1 day.... 24 hours .... the day I was having some people over for a cookout.
my heart sunk deep into my stomach.... I missed being able to talk to Heather and now I missed her memorial too.... I think it may have been for the best... I don't do memorials well.....I am sorry I wasn't there to hug a few necks... and say a group good-bye and remembering Heather.... who died way too young... thankfully out of any pain.
I loved her. I know that she will be greatly missed. I have no more words....., but I have many precious memories of Heather from years gone by... many ... I am who I am today partly because of who "we were" yesterday... Thank You....